Enhancing CFO Insight; Expanding Ministry Impact
Thanks for coming to ChristianNonprofitCFO.com! You may wonder about the reason for this website. The purpose is simple – Equipping for Excellence.
Financial leaders in ministries are often ill-equipped to address, let alone overcome, the many challenges they face. Too often they pivot from crisis to crisis. In this mode they run on the tactical treadmill instead of proactively contributing strategic value to their nonprofits. Unfortunately, the full impact of their ministries suffer.
It is time for this to change.
Now.
Paul says in Ephesians 4:12 that God gave leaders "for the equipping of the saints for the work of ministry, for the edifying of the body of Christ." God wants to equip us so that we might significantly impact others. This is what this website is designed to do. While there are many firms with their corresponding websites that provide technical insight on audit, tax, and legal matters, there are few that provide insight on how to lead on a day-to-day basis to reach your nonprofit's goals. This is what we are going to accomplish here.
Come join me on this journey! Explore with me how we can best serve at our ministries that the Lord might be exalted across the street and around the world.
Opportunities for Growth
Some learn best by reading; others learn best by listening. In our fast paced society we have a hard time reading all the information given to us. Listening to material, whether it is in the car or over lunch or on a walk, provides an opportunity to still our minds and consider new ideas for growth. Because of this, the material presented on the website will primarily be in an audio format. The sessions will be in manageable time frames of around 20-30 minutes, so you can easily listen on your mobile phone while you are on your drive to work.
Eventually these audio blogs will be handled as a Podcast, so stay tuned for when you can have these automatically downloaded to your Podcast app.
About Me
My name is David Beroth, and I am first and foremost a follower of the Lord Jesus Christ. He has redeemed me, and I desire to live my life for His glory. He has called me to serve as a nonprofit financial leader, and it is a passion of mine.  In addition to loving my wife and raising my four energetic boys, God has given me this life purpose – defining, expanding, and perpetuating standards of financial excellence for ministries.
This started when I passed my CPA exam two decades ago and went to work at a local CPA firm in Ohio which had a niche in nonprofit accounting, auditing, and taxation. I gained incredible experience across a broad range of nonprofits. During that time I volunteered for a startup missions  organization that was focused on sponsoring national missionaries. After a decade in public accounting the Lord led me to serve with this ministry full time as their CFO/COO. I loved it.
After six years with them the ministry had grown to supporting over 1,000 national missionaries in 11 countries around the world with income around $3M. God had graciously blessed the work of our hands. In 2011 the Lord directed me to transition to Seed Company (an affiliate of Wycliffe Bible Translators) where I now serve as their CFO. We are excited to be engaging around 700 languages in Bible translation work, and God is at work. We currently have an annual budget of about $45M.
As you can see, I am a practitioner. What I will share will be ideas that I have pursued in the day-to-day activities of giving financial leadership to nonprofits.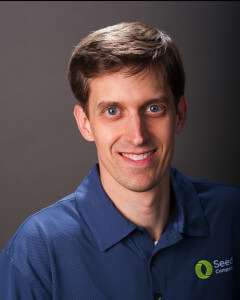 It's Your Turn
Enough about explaining the reason for this site; it's your turn to jump in!
I would love for you to do three things:
Listen to a couple of the audio blogs and see if you can glean a few nuggets that would enhance your insight to expand your ministry's impact.
Let me know if there is a topic around strategic financial leadership for nonprofits that you would like me to try to address in a future audio blog. I will do my best to handle it if I have any practical insight on the matter.
Also send me your email address if you would like to be added to the list for when the ChristianNonprofitCFO Podcast is started.
Oh yes…if you like the site, please tell your financial friends!
Please also know that the information provided in this website or in the audio blogs is for general educational information and with the understanding that I am not rendering legal, accounting, or other professional advice or service. Professional advice on specific issues should be sought from your accountant, lawyer, or other professional.
Soli Deo gloria!